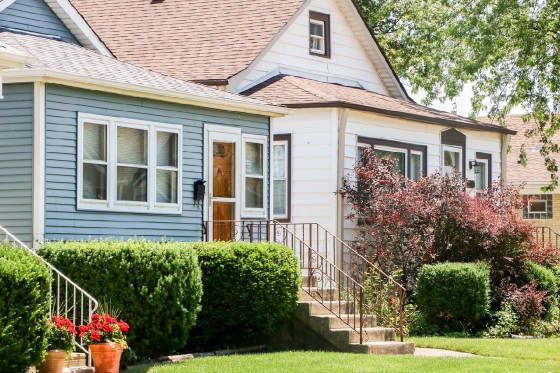 Dunning Neighborhood
Dunning is snuggled closely between the Chicago suburbs Harwood Heights and Elmwood Park in Chicago's far northwest region. This location has afforded the community of Dunning a rather tranquil seclusion from the haste of the city, while keeping one foot in its door. Quiet and peaceful tree-lined streets and a calm nightlife have been attracting residents of all ages—from college students to young professionals to retirees—for years now as Dunning continues to grow in popularity. Home to Wright College and a handful of top-notch private and public schools, Dunning is full of educational opportunities making it a great fit for families. With access to the greater Chicago metropolitan area and only an El train ride away from downtown, Dunning homes are only going to get more popular.
Location
Dunning is 13 miles northwest of the Chicago Loop and about 10 miles west of Lake Michigan.

Officially, Dunning is community area 17 of Chicago and is composed of several small neighborhoods.

Chicago neighborhoods near Dunning include Portage Park to the east and Hermosa to the southeast.

The villages of Norridge, Elmwood Park and Harwood Heights are to the east, south and north, respectively.
Information
Dunning is home to Wright College.

Neighborhoods within the community of Dunning include Belmont Heights, Belmont Terrace, Irving Woods, Schorsch Village, and The Villa.

Population (2000) - Total 42,164
Density 11,246.6/sq mi
White 81.6%
African American .55%
Asian 3.12%
Hispanic/ Latino 12.9%
Other 1.85%
Median income $49,367
(Source: Wikipedia.org)
History
The history of Dunning began with the construction of a poor farm and mental hospital placed there by Cook County in the 1850s.

After the Civil War, Andrew Dunning purchased 120 acres of land in the area planning to start a nursery and begin a village.

Early on, transportation to and from Dunning was poor. In 1882 an extension to the railway allowed the Chicago, Milwaukee & St Paul Railroad to bring patients, supplies and medicine to the facilities.

At the beginning of the 20th century, resident Henry Kolze inherited a tavern and wooden acreage at Narrangansett and Irving Park. He turned the wooded acreage into a picnic grove and the idyllic scenery as well as the tavern began to draw visitors to Dunning.

In 1910 the poor farm was moved to Oak Park and the mental hospital was bought out by the state becoming Chicago State Hospital.

The population continued to grow slowly until the first housing boom was created when Schorsch Brothers Real Estate bought land in 1916. They initially called the housing tract West Portage Park.

Wright College was built in 1934, and with it the population saw another boost. In 1970 the population reached 43,856, but dropped to 36,957 over the next 20 years.

During the 1980s and 1990s Dunning began growing in popularity with its proximity to Ridgemoor Country Club, the luxury homes being built, and its reputation for tranquil seclusion. By 2000 the population had grown back to 42,164.
Real Estate
Surrounded by plenty of open green space and buffered from traffic noise and the hustle and bustle, Dunning homes are an ideal location for those looking for seclusion paired with easy access to all Chicago has to offer.

Dunning homes for sale include luxurious as well as modest houses, including modern split-levels, ranch-styles houses, condos and townhouses.

Transportation
Dunning has copious amounts of street parking, and many Dunning homes for sale include a garage. Drivers also have fairly easy access to the Kennedy Expressway.

For public transportation, residents of Dunning can make use of the Metra Milwaukee District/North Line. Commuters have access to this line at either the Metra Grayland or Metra Mayfair Stations.

The CTA Blue Line is available to residents and runs 24-hours. There are two CTA Blue line stops in Dunning: Irving Park and Addison.

The Irving Park CTA Blue Line station is located at 4131 W Irving Park Rd. CTA Buses connecting at this station are the 53, 54A, 80, and X98.

The Addison CTA Blue Line station is located at 3622 W Addison St. Commuters can transfer to CTA Bus 152 at this station.
Schools
The community of Dunning is home to a host of excellent private and public schools. Adhering to Chicago's place as a cultural center, Dunning schools reflect the city's affluence with challenging academic curriculums and a genuine commitment to the kids, teens, and young adults of Chicago.

Bridge Elementary, 3800 N New England Ave
Canty Elementary, 3740 N Panama Ave
Dever Elementary, 3436 N Osceola Ave
Maryville Academy, 4015 N Oak Park Ave
Our Savior Lutheran School, 3457 N Neva Ave
St Francis Borgia School, 3535 N Panama Ave
St Patrick High, 5900 W Belmont Ave
Wright College, 4300 N Narrangasett
Nightlife
If you live in Dunning or are considering making this cozy community your new home, then you probably want a little distance from the bustling nightlife of Chicago. Dunning offers peace and quiet within its friendly confines but still offers a handful of neighborhood hangouts and easy access to all the hot nightspots of Chicago.



Hubble Hookah (3308 N Harlem, 773-637-3600) offers a trendy, hip, unique and relaxing lounge experience. Hubble Hookah has a variety of different flavors of only the finest hookah tobacco, as well as fine gourmet coffees to pair with them. A full bar and a menu featuring Middle Eastern fusion rounds out the experience.

Galvin's Public House (5901 W Lawrence Ave, 773-205-0570) treats its patrons to authentic Irish pub atmosphere, food and libations. Fostering a friendly environment, Galvin's Public House is the place to meet up with friends, grab a few drinks and enjoy each other's conversation in a relaxed environment. Glavin's also presents live music every Friday and Saturday nights.
Entertainment
Harlem Irving Plaza (4104 N Harlem Ave, 708-453-8296) consists of over 100 shops, restaurants and specialty carts, making it Dunning's one-stop shopping spot. Everything is right here, including stores like Target, Best Buy, Hot Topic, Express, Forever 21, Bath & Body Works, RadioShack, Foot Locker, The Disney Store, Zales, and much more.

Portage Theater (4050 N Milwaukee Ave, 773-736-4050) is a historic Chicago theater and the new home for the Silent Film Society of Chicago. Portage Theater is an enormous, elaborate Movie Palace from the days when going to a film was an elegant and exciting event. Portage Theater presents an eclectic selection of cinema, from 1933's The Invisible Man to 2005's Serenity. The Theater even puts on triple and quadruple features, where you'll surely get your fill. This venue also hosts live music concerts and festivals.

The Rising Stars Theatre Company (5900 W Belmont Ave, 773-736-2490) has been entertaining Chicago for nearly three decades. A community-based organization, the Rising Stars Theatre Company aims to give back to the community and greater Chicagoland area with classic productions like Hairspray, The King and I, Singin' in the Rain, and more.

Putting Edge (4105 N Harlem Ave, Norridge, IL, 708-457-8377) provides excitement for the whole family. Putting Edge features a surreal, unique and interesting miniature golf experience with its black light-lit, glow in the dark mini course. There's also great arcades at Putting Edge.
Restaurants
While the nightlife may be a bit quiet in Dunning, the restaurants are always buzzing. Offering everything from Italian to Mexican to German and more, the locals will often find no reason to leave the cozy confines of their quaint northwestern Chicago community to find something great to eat.

Big Fish Restaurant (7117 W Addison St, 773-777-1000) serves only the freshest seafood. Big Fish Restaurant specializes in vibrant, uncomplicated, beautiful dishes, all served in an elegant, yet comfortable environment. Aside from the seafood, Big Fish is also known for their authentic Polish cuisine. They feature live music every Friday evening.

Caponies Trattoria (3350 N Harlem Ave, 773-804-9024) is best-known for their tasty brick oven-baked pizzas, but the rest of their menu is sure to please any fan of authentic Italian dishes. Caponies Trattoria's atmosphere is cozy and intimate. Traditional dishes like lasagna and stuffed ravioli are favorites and are always served in heaping, satisfying portions.

Edelweiss (7650 W Irving Park Rd, 708-452-6040) was voted "Chicagoland's #1 German Restaurant" more than just once, and for good reason. Edelweiss is an authentic German restaurant, from the décor to the cuisine. They have an excellent selection of German beers, among others, and live German music events on the weekends.

Jolly Inn Restaurant (6501 W Irving Park Rd, 773-736-7606) offers diners an affordable and authentic Polish buffet dining experience. Known for their fresh, homemade foods, the buffet at Jolly Inn Restaurant has over 24 dishes, as well as a full salad and fruit bar. You can expect a casual atmosphere and friendly service at Jolly Inn, as well.
Festivals/Parks
Residents of Dunning homes have two pristine parks to take advantage of, as well as the nearby Chevalier Woods for activities and appreciation for the great outdoors. Chevalier Woods is one of the largest forest preserves in the area and is perfect for nature walks, wildlife spotting, bird watching and picnicking.

Merrimac Park (6343 W Irving Park Rd) is a nine acre park with a field house, a gymnasium, 2 walking trails, a junior baseball field, 2 softball fields, 3 junior soccer pitches, a tennis court, playground, and spray pool. Merrimac Park is well-known for its annual "Breakfast with the Easter Bunny" and Downhill Derby, featuring kids and their hand-crafted small race cars.

Hiawatha Park (8029 W Forest Preserve Dr) sports a large gymnasium and fitness center. A sprawling 12 acres, Hiawatha Park also features tennis courts, baseball fields, football/soccer fields, and a playground. The park offers a number of organized activities for residents, including flag football for the young ones, a weightlifting program for teens, and yoga for adults, among various other activities.
---
We specialize in these Chicago neighborhoods;
Belmont cragin area, Jefferson Park, Hermosa Area, Albany Park, Austin Area, Humbolt Park, Logan Square, Rogers Park, Irving Park, among others.
Call today, we can help make your dreams come true