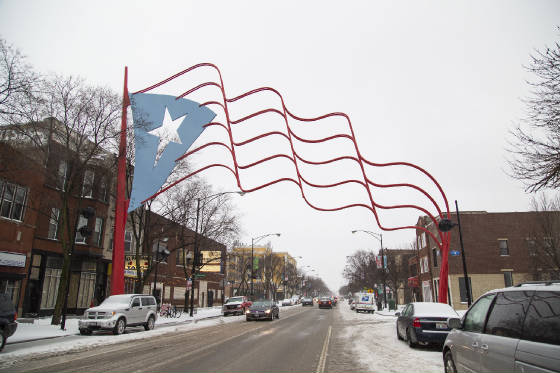 Humboldt Park Neighborhood
Humboldt Park is one of the most exciting neighborhoods in West Side Chicago, a thriving cultural center for Puerto Rican, Mexican, and Eastern European immigrants. The community is located just 5 miles from the Chicago Loop along a number of major roads, including North Avenue, Grand Avenue, and Western Avenue. Public transportation routes such as the CTA Blue Line and BNSF Railway provide convenient transportation downtown, making the neighborhood a great spot for Chicago commuters. Families also enjoy some of the best real estate values in the city, choosing between beautiful brick bungalows, two flats, and contemporary condos.

Humboldt Park is known for its fantastic festivals and arts related events such as the Puerto Rican Festival, Ukranian Days Festival, and Humboldt Park Arts Festival. Colorful area galleries and theater groups provide a creative outlet for locals, offering classes for residents of all ages. Cultural centers such as the illustrious Puerto Rican Arts Center provide a venue for musicians, visual artists, and educators, celebrating their immigrant heritage.

Humboldt Park is also a hidden gem filled with incredible restaurants. From classy wine bars to diners to gourmet eateries, the neighborhood offers something to satisfy every palate. With its variety of ethnic flavors, local dining is as eclectic as the residents of Humboldt Park.
Location
Humboldt Park is a West Side Chicago neighborhood located 5 miles from the Chicago Loop. The community is home to the spacious Humboldt Park, Humboldt Park Beach, and Humboldt Park Boating House. The neighborhood contains a number of major roads including North Avenue, Grand Avenue, and Western Avenue.

Humboldt Park is bordered by Homan Square, Avondale, and Irving Park to the north, De Paul and Roscoe Village, and Lakeview to the northeast, West Town, Wicker Park, Old Town, and Streeterville to the east, the Near West Side, the Loop, and Printers Row to the southeast, Fifth City to the south, Oak Park to the southwest, Galewood and River Forest to the west, and Hermosa, Hanson Park, Cragin, and Montclare to the northwest.
Information
Population (2009) - Total 65,587
Density 13,688/sq mi
Median income $34,231

(http://www.city-data.com/neighborhood/Humboldt-Park-Chicago-IL.html)

Humboldt Park is a very youthful community with an average age of 24 in the population.

Humboldt Park is home to a very vibrant Puerto Rican population. The neighborhood features beautiful Spanish Colonial homes in the styles of Old San Juan and thriving ethnic festivals such as Three Kings Day, the Puerto Rican People's Parade, Haunted Paseo Boricua, and Fiesta Boricua. The community is also home to the Puerto Rican Cultural Center.

The neighborhood of Humboldt Park is referenced in both Saul Bellow's Adventures of Augie March and John Guzlowski's Lightening and Ashes.

Humboldt Park has also been featured in a number of films including Jack Benny's The Horn Blows at Midnight and Nothing Like the Holidays with Freddy Rodriguez, John Leguizamo, and Debra Messing.
History
Humboldt Park was named for the naturalist Alexander von Humboldt in 1869. The community was annexed the same year and began to boom with the arrival of the street railway. The elevated railway arrived in 1886, making the neighborhood even more accessible. Throughout the turn of the century, a number of elegant two flats, limestone houses, and brick bungalows were built, along with small affordable apartments.

Humboldt Park has always been an ethnically diverse and ever-changing neighborhood. Danish and Norwegian communities flourished throughout the 1870s, and a wave of German settlers moved in toward the end of the nineteenth century. The 1920s brought a wave of Italian Americans and Russian Jews hoping to retire in style within Humboldt Park's spacious apartments.

Throughout the 1950s and 60s, a large group of Puerto Rican workers migrated to the neighborhood, becoming the dominant population in the area. Today, the Puerto Ricans remain the most prominent of Humboldt Park's ethnic groups, though significant populations of Mexican and Dominicans have recently moved to the neighborhood.
Real Estate
Humboldt Park real estate offers beautiful vintage brick two flats, three flats, duplexes, and other rentable buildings in a prime location. With its youthful population and proximity to nearby art galleries, Humboldt Park is a hot neighborhood for young couples, college students, and anyone seeking a culturally active lifestyle. Thus, the area is a perfect spot to purchase unique investment properties.
Humboldt Park single family homes feature upscale kitchens with cherry cabinets, gorgeous tile work, finished basements, and hardwood floors. Homes also offer fenced in backyards, pristine patios for outdoor entertaining, and spacious 2-car garages.
Humboldt Park also includes sleek modern condos with chic minimalist designs. Humboldt Park condos feature open floor plans, 10-foot ceilings, huge under roof decks, open kitchens, and glorious full wall windows to let in lots of natural light.

Transportation
Humboldt Park is located near two Metra train stations, the Kedzie Metra Station and the Western Avenue Metra Station.

The Kedzie Metra is located along the Union Pacific West Line, which runs from Elburn to Ogilvie Transportation Center downtown. The line includes major stops at Geneva, Wheaton, Glen Ellyn, Elmhurst, River Forest, and Oak Park, making it convenient for both suburban and city commuters.

The Western Avenue Metra is located on the BNSF Railway. The line runs from Aurora to Union Station in the Chicago Loop. Along the way, the train hits stations in Naperville, Downers Grove, Clarendon Hills, Hindsdale, Western Springs, LaGrange, Brookfield, Riverside, Berwyn, Cicero, and Halsted.

Humboldt Park is located near the California CTA Blue Line station, Western CTA Blue Line- O'Hare station in Bucktown and the Damen CTA Blue Line Station in Wicker Park. The Blue Line runs from Forest Park to O'Hare, hitting major stops in Oak Park, UIC-Halsted, the LaSalle Street Metra, Clark/Lake in the Loop, and Irving Park.

Humboldt Park is very well served by CTA bus lines including Route 49 Western, Route 50 Damen, Route 52 Kedzie/California, Route 56 Milwaukee, Route 72 North, and Route 73 Armitage. The lines stop along the Blue Line, Clybourn Metra, Pink Line, Orange Line, and Green Line.

Humboldt Park drivers enjoy access to North Avenue, Grand Avenue, and Western Avenue.

North Avenue runs east through Bucktown, Wicker Park, the Loop, and Old Town before running into Lake Shore Drive. The road runs west through Galewood, Oak Park, Elmwood Park, Melrose Park, Stone Park, and Northlake before running into the I-294 Tri-State Tollway.

Grand Avenue runs northwest through Cragin, Galewood, Montclare, Ellsworth, Elmwood Park, River Grove, and Franklin Park before hitting the I-294 Tri-State Tollway.

Western Avenue is a major artery through the City of Chicago. The route runs north through Wicker Park, Roscoe Village, Ravenswood, Bowmanville, Peterson Park, Lincolnwood, Skokie, and Evanston. The road runs south through Tri-Taylor, Back of the Yards, West Englewood, Marquette Park, Wrightwood, Auburn Gresham, Evergreen Park, Beverly, Morgan Park, Merrionette Park, Blue Island, and Posen before running into I-57.

Humboldt Park is a very walkable neighborhood, providing residents with a healthy and environmentally friendly way to run short distance errands. The Humboldt Park walk score is 82/100.
Schools
Humboldt Park is served by Chicago Public Schools, the Our Lady of the Angels Catholic Mission, and the Humboldt Community Christian School. High school students attend the Rowe Math and Science Academy or the Tuley High School while college students have access to nearby Kendall College.


Private

Our Lady of the Angels Catholic School- 3808 West Iowa Street (773) 486-8431
Humboldt Community Christian School- 1847 North Humboldt Boulevard (773) 278-6330

Elementary

West Park Elementary- 1425 North Tripp Avenue (773) 534-4940

Middle School

Ames Middle School- 1920 North Hamlin Avenue (773) 534-4970

High School

Rowe Math and Science Academy- 3645 West Chicago Avenue (773) 242-2212
Tuley High School- 1147 North Western Avenue (773) 534-4000

University

Kendall College- 900 North Branch Street (866) 667-3344
Nightlife
Humboldt Park offers a night scene as diverse and exciting as its community. From dive bars to cozy grills to hip contemporary wine bars, the neighborhood nightlife has something for everyone.

Rootstock Wine and Beer Bar (954 North California Avenue (773) 292-1616) is the effort of 3 former Webster Wine Bar employees who struck out on their own! The distinguished wine list includes a wide range of reds, whites, roses, and bubblies from Spain, Germany, Austria, France, Italy, Greece, South Africa, and New Zealand. The beer menu offers a fine variety of domestic microbrew bottles and drafts, imported pilsners, Belgians, English bitters, lagers, IPAs, and dark ales. The bar also features a wide range of spirits from absinthe to sherry to aged 18-year scotch. Executive Chef Duncan Biddulph serves up an eclectic menu of bar plates to pair perfectly with the drinks, including organic burgers, strip steak, confit duck leg, and poached pear with mizuna, goat cheese, and toasted pistachio. Locals also rave for Rootstock's regularly rotating brunch menu.

Baza (2500 West Chicago Avenue (773) 252-4775) is a calming place to kick back with a few drinks and some amazing food. Regulars rave for the burgers, sandwiches, homemade borscht, and the unique "Cap'n Crunch" chicken fingers. The walls abound with flat screen TVs, making the bar a good spot for watching the game.

The Division Street Bar and Grill (2525 West Division Street (773) 252-2233) offers impressive weekly specials including $2 Miller Lite Tuesdays, $4 Beer and a shot Wednesdays, $4 Absolut Thursdays, $5 Guinness Fridays, $5 Bomb Saturdays, and $5 Absolut Bloody Marys on Sundays. Friday and Saturday nights feature resident and rotating DJs. Sunday nights feature 11am brunch and 7pm Pub Trivia.

The California Clipper (1002 North California Avenue (773) 384-2547) is a charmingly retro lounge and a hot venue for live music shows. Bands provide a great dancing soundtrack while the bar provides surprisingly cheap dancing fuel. Locals recommend the Clipper's house cocktail, a Purple Martin with refreshing grape soda, coconut rum, and lemon.
Entertainment
The Quilombo Cultural Center (1757 North Kimball Avenue (773) 227-8879) hosts a wide range of educational courses from hapkido martial arts to Brazilian percussion, samba dancing, and capoeira classes.

The Africaribe Cultural Center (2547 West Division Street (773) 879-2123) hosts a number of community events including poetry nights, holiday celebrations, dance, and music recitals.

The Puerto Rican Cultural Center (2739 West Division Street (773) 342-8023) hosts everything from lectures to pageants, catering to all corners of the community.

Humboldt Park is a very active arts community with a number of exquisite galleries.

Chicago Hot Glass (1250 North Central Avenue (773) 394-3252) is home to a gallery and store filled with gorgeous glass sculptures. The studio also offers classes in traditional glassblowing, lampworking and bead making, and glass jewelry casting.

The Reversible Eye Gallery (1103 North California Avenue (773) 862-1232) is a space for theatrical and musical exhibitions as well as experimental performances and installations. The gallery also showcases paintings, collages, and other unique mixed media works.

Free Street Theater (1419 West Blackhawk Street (773) 772-7248) offers enriching programs and educational workshops year-round, including a summer intensive, at-school residencies, and the Little Village neighborhood ensemble. The Free Street Theater also offers after-school writing and theater workshops in Pulaski Park and a summer UpsideDownSchool for kids ages 5-11. Locals can donate to the theater, join a program, or volunteer here.

The summer-long West Humboldt Park Farmers Market and Bazaar (3601 West Chicago Avenue) offers a sampling of Humboldt Park retailers including antique sellers, clothing stores, fresh vegetables, fruits, and baked goods.
Restaurants
Humboldt Park diners enjoy a tantalizing array of options. The neighborhood offers everything from comforting home-style eateries to innovative contemporary cuisine.

Papa's Cache Sabroso (2517 West Division Street (773) 862-8313) serves some of the most authentic Puerto Rican food in Chicago, including mouth-watering jibaritos, tostones, and rotisserie style pollo chon. Resident Puerto Ricans adore the heavenly sauces, spices, and the perfectly fried plantains. Papa's offers eat-in dining, delivery, and catering for special events.

Shokolad (2524 West Chicago Avenue (773) 276-6402) is an incredible combination bakery, café, and restaurant with a traditional European flavor. Diners enjoy a tasty menu of vegetable, meat, and cheese pierogi. Shokolad also serves roast pork, beef, pelmenti dumplings, and the city's very best borscht. For dessert, locals recommend the cheesecake lollipops, napoleons, and airy soft chocolate mousse cake.

It is virtually impossible to leave Andrzej Grill and Restaurant (1022 North Western Avenue (773) 489-3566) without a smile and a full-stuffed belly. Locals can eat well without breaking the bank thanks to specials such as the Polish sampler, which features a plate of pierogi, two potato pancakes, grilled Polish sausage, stuffed cabbage, kraut, pickles, cream, and beets for just $8.50. The entire restaurant is run by Andrej himself, who performs as a warm-hearted host, cook, and server.

La Encantada (3437 West North Avenue (773) 489-5026) lives up to its enchanting name with a lovely atmosphere, delicious food, and fabulous drink selection. The décor is simple yet elegant with warm lighting, wood floors, plain stucco and brick walls. The walls display beautifully arranged paintings and photographs from local artists. The menu showcases traditional Mexican dishes with a sophisticated twist. From enchiladas with subtly spiced mole to refreshing mojitos, La Encantada serves up a fun and stylish dining experience.

Cemitas Puebla (3619 West North Avenue (773) 772-8435) is a family-owned diner specializing in Poblano foods. This unique restaurant is the one and only home of the Cemita sandwich, which is made up of sesame bread layered with avocado, a choice of meat, adobo chipotle peppers, fresh Oaxacan cheese, and papalo. The diner also serves tacos, chalupas, and other Mexican favorites. This delightful eatery was even featured on Guy Fieri's Food Network Show, Diners, Drive-Ins, and Dives!

Feed (2803 West Chicago Avenue (773) 489-4600) offers a solid selection of southern-style soul food and comforting diner classics. Rib-sticking specialties include fried okra, fried chicken, chorizo mac-n-cheese, and sweet corn pudding. The restaurant's décor gives guests a feeling of new world Americana. Red-painted paneled walls surround the tiny round tables, the walk-up ordering counter, and the old-fashioned chalk-board menu.

For top-notch vegetarian food, brunches, and healthy dining, Humboldt Park families favor the Flying Saucer (1123 North California Avenue (773) 342-9076) restaurant. The Flying Saucer offers a quaint diner-style atmosphere with tile floors, chrome trim, and old-fashioned counter, and endless coffee cups. The food, however, is decidedly above and beyond most diner fare. Regulars rave for the tofu and sweet potato hash as well as the black bean cakes with red pepper sauce. The friendly servers are more than happy to recommend their favorites.

Nellie's (2458 West Division Street (773) 252-5520) offers amazing brunches and buffets. Whether you're in the mood for something savory or sweet, Nellie's delivers the goods. Stand-out dishes include the flavorful papa relleno, lasagna-like meat pastelon, and the rich, creamy coconut oatmeal.
Festivals/Parks
Humboldt Park is known for its vibrant summer festivals. From June through September, the streets are filled with vending booths, and the air is filled with sounds of salsa, bomba, plena, and merengue music.

Puerto Rican Festival (1400 North Sacramento Avenue) is a celebration of Puerto Rican culture including live music, dancing, food vendors, and crafts. The festival includes the Puerto Rican Day Parade and Puerto Rican People's Parade.

The Humboldt Park Art Fair (1359 North Sacramento Avenue) is held annually in Kells Park, showcasing local artists of all ages. Festival proceeds benefit Graffiti Zone's after school arts program, which creates a safe creative space for locals to commune through art.

Humboldt Park's yearly Ukranian Days Festival (2500 West Grand Avenue (773) 252-1228) is like a giant family picnic. From delicious food to ethnic dancing, the festival provides fun for the whole family.

Humboldt Park (1400 North Sacramento Avenue (312) 742-7549) is the center of the community, offering baseball fields, a fitness center, gym, meeting rooms, a playground, outdoor basketball, tennis courts, and a swimming pool. Walking and jogging paths provide a great spot for recreation. The park is also home to the Humboldt Beach (1400 North Sacramento Avenue (312) 742-7549) lagoon and water playground.
We specialize in these Chicago neighborhoods;
Belmont cragin area, Jefferson Park, Hermosa Area, Albany Park, Austin Area, Humbolt Park, Logan Square, Rogers Park, Irving Park, among others.
Call today, we can help make your dreams come true